we are dilate.
Dilate's vision for our team is to be Australia's most respected digital marketing agency.
There is no prize for being the biggest business in town and our growth will always come second to doing the right thing by our clients, our team and the community. Our purpose is to create business, better everyday and those two mantras along with our values you can read about below are our north star.
But who are we?
We're a team of passionate innovators, change-makers and creatives committed to your business' growth and success. In today's fast-moving and dynamic world, performance tracking, measurable results and a focus on your brand image are more important than ever. As a business, you deserve accountable, innovative and results-driven marketing with an educational approach - we build digital campaigns aligned with your business goals and track performance from end to end.
We report to you without the fluff, focusing on the things that matter to you; what you're spending, what you're making and where your brand is going.
Create Business. Better Everyday. You've arrived, welcome to Dilate.
our values
We live and breathe our values in everything we do. They guide our decision making, the way we act, the way we communicate, and ultimately they are our "guiding light" to success.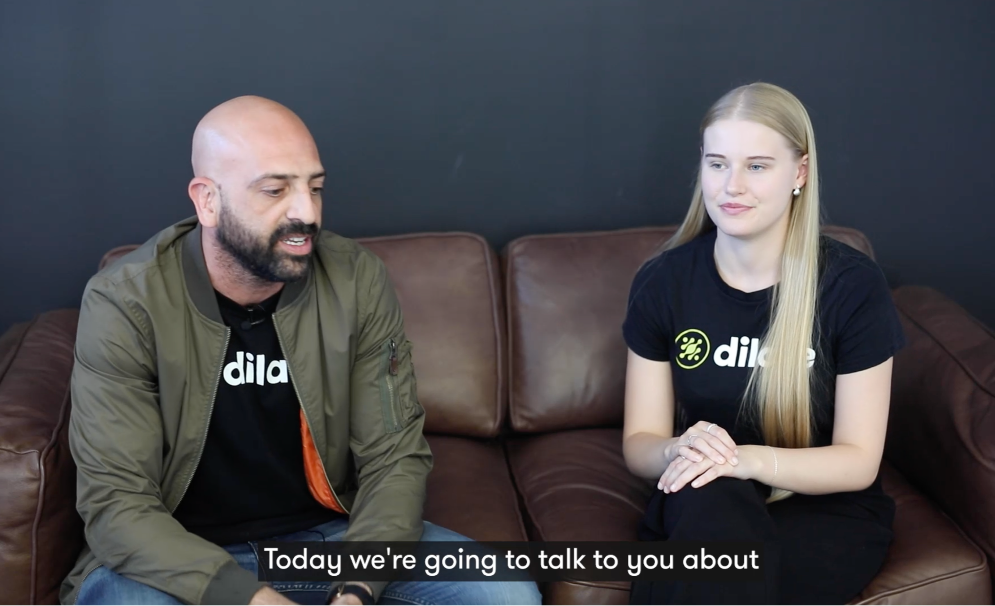 driven.
We are driven by results, in everything we do. To grow in all ways, always.
innovative.
To have the courage to step out of our comfort zone; to smash the status quo.
leadership.
Leadership is a choice, not a title. Be the change you want to see.
accountable.
To ourselves, our team and our clients. Own your role, be confident and back your self.
transparent.
To be open and honest in everything we do, and honour the trust given to us by our clients.
empathy.
The human element. To be selfless and lift each other up. To walk a day in our clients' shoes.
meet the crew
We are a purpose driven, values lead organisation that
invests in our people.
Bodie
Czeladka
— Director
Hi I am Bodie Czeladka, surfer and devoted dad from Perth Western Australia and founder of Dilate Digital. I crafted Dilate Digital from a home theatre room in 2012 and worked solo as a freelancer until hiring my first staff member in early 2014. Dilate Digital now has the privilege of employing over 80+ superstars world wide and this is just the start. I believe the best of me is still hiding up my sleeve.
John
Reserva
— Head of Marketing
With more than 10 years of experience in search marketing and media buying in AUNZ and APAC region and working with a wide range of different verticals. My role is to develop highly effective & strategic digital marketing campaigns for our clients to achieve their business goals. I use data and consumer insights to predict result driven marketing forecasts to implement marketing campaigns.
Chris
Paterniti
— Account Manager
G'day, Chris from Dilate here. 80's music lover, digital marketing nut, passion junkie, video game geek and seeker of good times. My approach to digital marketing is right at the core of most businesses - to cut through the sh** and focus on what really matters. Full stop. And then grow. I love sharing knowledge and helping businesses grow. I also love giving back to the community and current students (Murdoch and Emmanuel),
Aimee
Robinson
— Account Manager
Hey there - I'm Aimee! You can call me Aims but the kids will often call me Rapunzel. I'm a long-haired lover of all things travel, adventure, food and digital marketing. I've always been a part of small businesses since I was a kid (thanks Mum & Dad), which is probably why studying a Bachelor of Commerce at Curtin was a no-brainer for me! I'm driven by this insane, constantly changing digital industry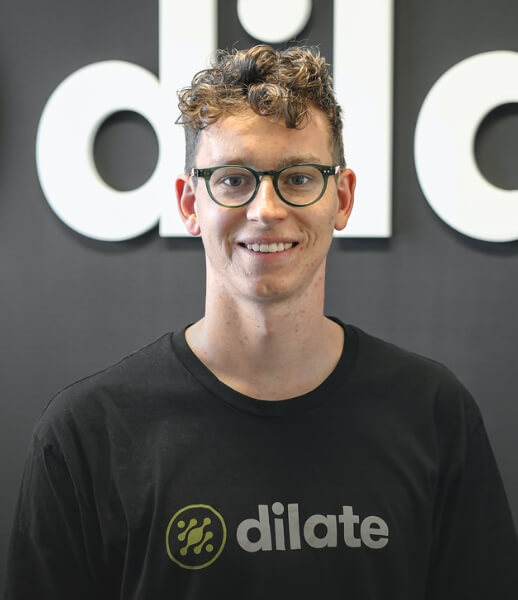 Charlie
Pemberton
— Account Manager
Hey I'm Charlie! As someone who has their hands in many different creative endeavours, I'm always looking for innovative ways to create business for our clients. At Dilate Digital I'm a digital marketing account manager who loves problem solving in a creative and analytical context. The world of digital marketing is constantly expanding. Finding new and interesting avenues to explore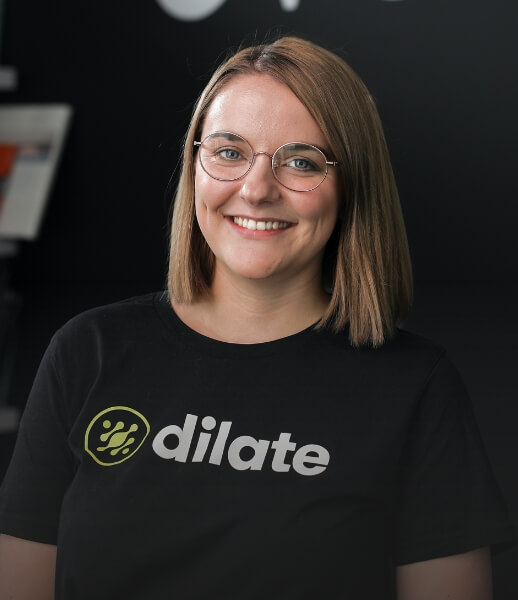 Tara
Anderson
— People Operations Manager
Hey hey, I'm Tara! I'm the People Operations Manager here at Dilate. I'm a self-confessed nerd and when I'm not coaching, interviewing, or organising things at Dilate, I'll be at home playing the latest RPG, catching a superhero flick, or getting stuck into a fantasy novel.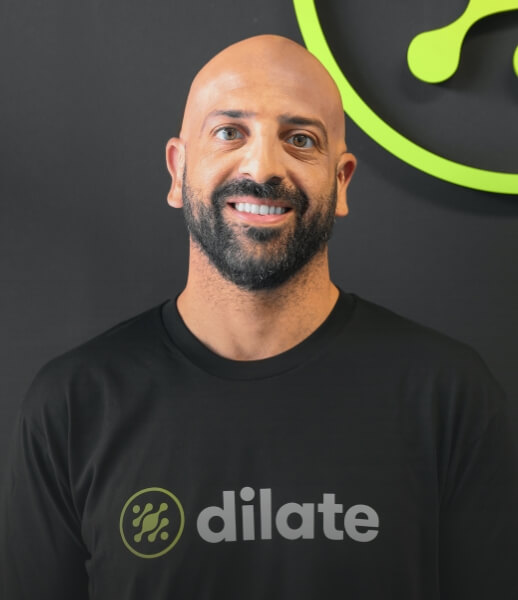 Maher
Hejleh
— Account Manager
Hey, I'm Maher and I have loved digital marketing and what it can do for businesses for as long as I can remember. I love working in a collaborative environment and taking things to the next level for our clients while still having fun and cracking dad jokes. At the end of the day, I get a massive kick from connecting with happy, productive people and seeing growth for the businesses that we partner with.
Kirralee
Coulter
— Account Manager
Hey! I'm Kirralee - Kees for short. Your resident extravert with a passion for conversation, collaboration & growth. It's a classic story really, a musical theatre nut turned marketing guru. Artsy creativity turned digital innovation, and I've never looked back! When I'm not cracking your messaging and brand, you'll often find me neck-deep in the news, international politics or having a cheeky pint on a Sunday afternoon.
Angelina
Lee
— Account Manager
Kia ora! Hello there! My name is Ange. I am an Account Manager here at Dilate Digital. Creativity has always been an essential part of my life and I spent my younger years as a special effects and makeup artist before moving into the marketing world and now, specialising in digital. The digital world is constantly shifting and growing and I strive to learn and innovate with it. My clients successes are my successes and I absolutely love being a part of, and celebrating, these achievements.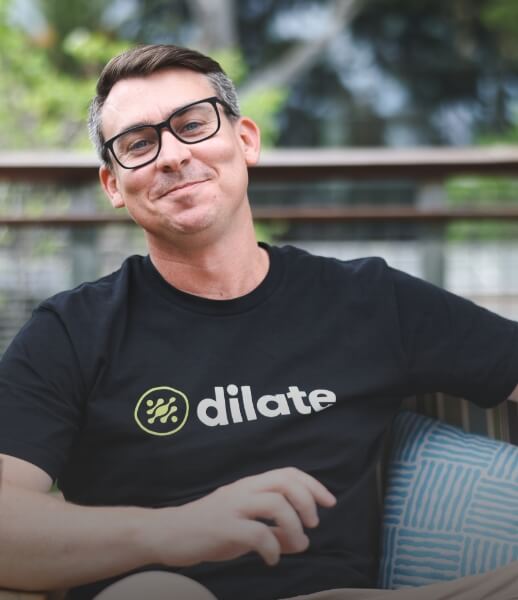 Tom
Parker
— Director
I wake up each morning to Inspire & Teach Small Business owners to achieve their potential, by aligning Marketing Strategy with overall Business Strategy. A CPA and business advisor with 14 years experience working with SME's. I've loved helping my clients grow over the years, be it through marketing, brand development, systems and business strategy.
Brendon
Crouch
— Account Manager
Hey, I'm Brendon. Weary dad, baker of bread, amateur woodworker, travel enthusiast and Digital Marketer. Despite my incredibly dry humour, I have a love for experiencing life and making each day count! If you want to get me excited, then I love creatively helping businesses grow through results-based marketing based on real data. I want to use this blog to share my hard-earned experience to benefit
Mark
Noakes
— Account Manager
I get out of bed every morning driven by the knowledge that there's always so much more to lHey legends, I'm Mark. I'm a proud doggo-dad to Hank, and a big fan of the good vibes. earn and experience. With that, it's no surprise that I've ended up falling in love with the fast-paced and constantly-evolving space of digital marketing. Whether it's seeing a new idea crush when it launches,
Jake
Littlepage
— Discovery Team
Hey there - I'm Jake. A 24 year old bloke who loves a good Pad Thai and a BIG glass of Shiraz on a Friday night. I ALMOST love Thai food/Red wine as much as I love digital marketing (definitely not as much, cause that would be weird). Nonetheless, I do REALLY like Digital Marketing - especially the way in which it helps grow businesses. There is no better feeling than getting a client a whopping ROAS, impressive rankings, or just an overall increase in sales & leads.
Jaimie
Tse-Chi-Shum
— Content Strategist
Kidire? Corek? Hey, how's it going? I'm Jaimie and I'm from a sunny little paradise island called Mauritius. I left my tropical home and moved to Perth about 15 years ago in pursuit of my dream to live in a "big" city! I have a background in design and recently graduated with a Master degree in Marketing at Curtin University. I came to visit Dilate Digital as part of my mentorship program with Aimee and immediately fell in love with the entire team.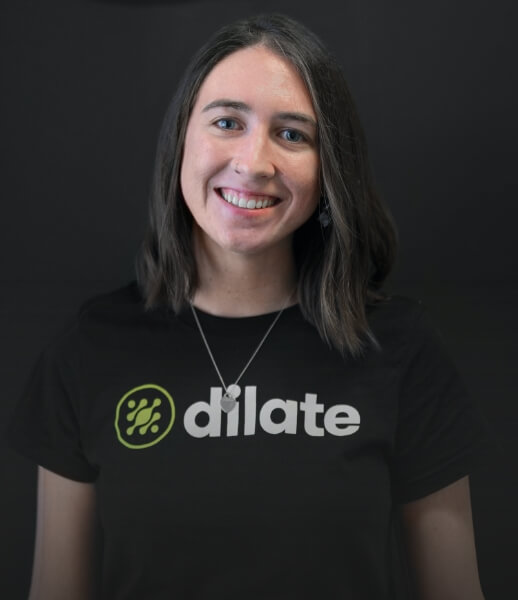 Chelsea
Reilly
— Digital Producer
Howdy partner, I'm Chels! I work alongside my fellow Dad-joke lover, Lisa, as part of the Web & Creative team here at Dilate. The most rewarding thing about working in digital is that it is a place to unleash your creativity in an ever-changing, ever-growing environment - no two days are the same. This gives me and my team the freedom to showcase our clients' websites in a unique and exciting way.
Tanya
Dharmapala
— Account Manager
Hey, I'm Tanya - lover of staying busy, challenging myself, digging deep into digital and working closely with clients! And food. Especially food. The thing I love the most about digital marketing is how it's always changing. There's always a new challenge to tear your hair out over. But when you figure it out? That's the sweetest feeling of them all.
Ashleigh
Kelly
— Content Strategist
Allo! I'm Ash. I'm a very tall, constantly caffeinated Content Strategist here at Dilate. When I'm not working some wordy magic, you can find me making my next travel plans, hitting up the best brunch spots in Perth, or chilling at the park with a good book. I studied a Masters of Marketing, and quickly found my passion for all things digital - and I haven't looked back since! Every brand has a story to tell, and I love helping them tell it in their own unique voice.
Justin
Macatangay
— Account Manager
More kindness is what I live by everyday. Mabuhay! I am Justin, an Account Manager here at Dilate Digital. I am a passionate marketer with excellent experience in traditional and digital marketing in the film, start-up, and e-commerce industries. I believe brands can forge an impact on the audience by leveraging stories that will inspire and engage them.
Sarah
Beltran
— Discovery Team
Oh Hi, I'm Sarah! Smile generator, music creator, drum & bass lover, noodle fanatic and Mumma of two little humans. You'll catch me on weekends chasing the sun with a beer in hand. I get a real buzz out of connecting with good people, and helping people get to where they need to be in this dynamic digital world we live in.
Lisa
Moroney
— Digital Producer
Hi there. Hola. I'm Lisa. I always say that I was a reptile in a past life because I'm addicted to summer - so you'll often find me outdoors … asleep on a beach with a cocktail in hand. Is there anything better? I'm told I make people feel like the funniest humans on earth because I laugh at everything. I'm genuine when I laugh and like to take the lighter, glass-half-full approach to all things in life.
Caroline
Wardrope
— Accounts & Finance Manager
Hey I'm Caroline, I came to Dilate to help out with the financial accounts 7 years ago and haven't left, I've tried to retire but got talked out of it more than once! Outside of my beautiful Dilate family are my husband, 4 kids and 3 dogs. I enjoy a good cup of coffee, chocolate and a good wine.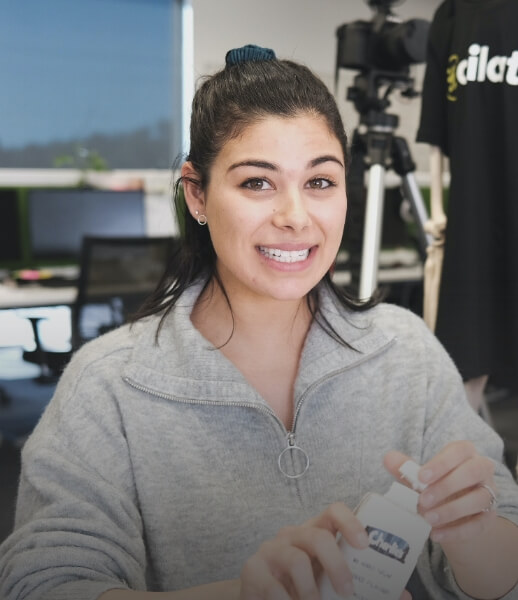 Carla
Unuwai
— Content Strategist
Heya, I'm Carla! Picture a bubbly, 5f 2" chic that doesn't know the definition of an inside voice - that's me! You will rarely see me without a smile on my face. Creative by nature & passionate about this fast moving industry that is Digital Marketing. Being a Mumma to my Mila-moo is my greatest joy, but being a part of Dilate's ever growing family is pretty special too.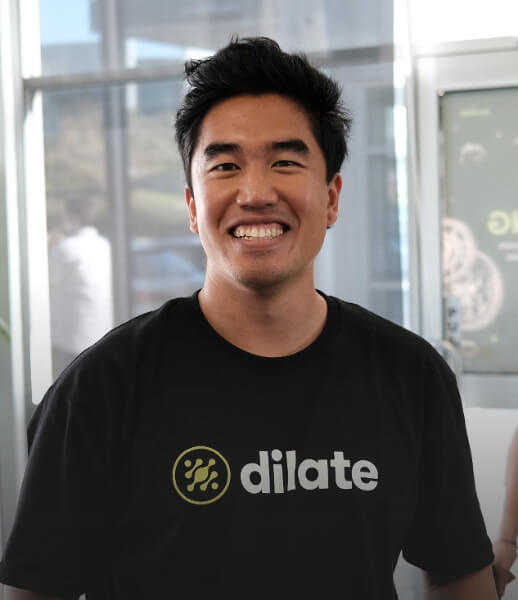 Mark
Wong
— Account Manager
G'day! My name is Mark Wong, but you can call me Wongy. Fueled by the hunger to help others, I stepped through Dilate's doors with a resume and a box of Krispy Kremes and never looked back! An entrepreneur at heart, I love bringing a sense of business and digital savviness to my client's campaigns, and helping them to grow!
John
Wallace
— Content Strategist
Super passionate about all things content, I'm a storyteller (Content Marketing Strategist) here at Dilate Digital. I believe that the best marketing strategy is a compelling story built on the wants of your customer and the way your business positions itself within the market. Craft a compelling and engaging brand story that meets people where they're most comfortable, and talks to them in language they use.
Alex
Lee
— Account Manager
Hey, I'm Alex. After living in Sweden for 3 years I made my way home to Fremantle and managed to convince Dilate to give me a job. My interest lies in E-commerce and the ever evolving environment that challenges businesses everyday. Outside of work you will rarely catch me sitting still. I love the beach whether that's surfing or diving, I'm highly competitive and enjoy playing sports and keeping fit.
Beth
Weiss
— Content Strategist
Hi hi! My name is Beth. You will never catch me without an iced latte in hand, or going without mentioning my fur-child Tux at least five times per day. Here at Dilate Digital, I work as a Content Strategist. I believe that every single business is unique, and deserves their own voice. My goal is to help them make an impact with creative content strategies which connect customers to their brand.
happy clients
what our clients are saying
feed your mind
learn from the best minds in the business
LATEST VIDEO TIP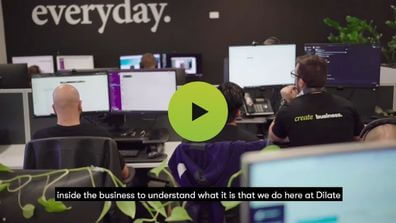 Our approach to becoming Australia's most respected agency.
Bodie provides some insight into Dilate's internal operations. How we approach what we do, and how we strive to be Better Everyday.