Don't see the perfect role for you?
Register your interest for upcoming roles and be notified when something meets your interest or past experience.
Register Interest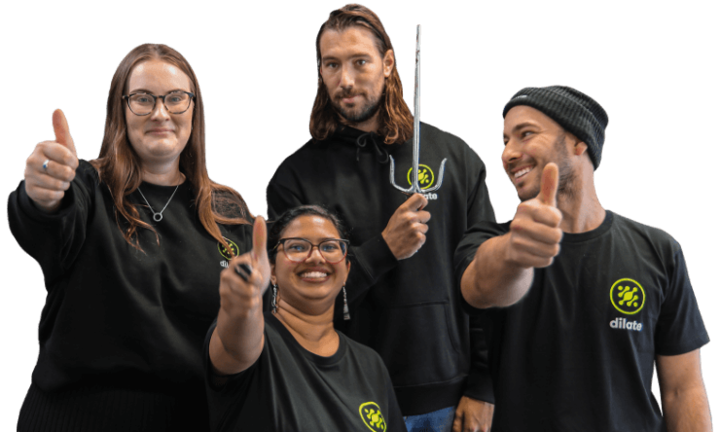 Our
Culture
Culture trumps strategy, everyday! Here at Dilate we're a big family, working in individual Pods (yeah, kind of like whales…) and everyone has a clear set of KPIs for their role in line with Dilate's goals, which are reviewed annually with the people who've been in the seats helping to drive the changes.
See we think that when everyone is aware of where we're going, and how we're planning to get there - all that we have to do is just get shit done - and we like that phrase here. Get shit done. That's part of our drive and fire.
It's not just where we're going either, but where our people are going too. All of our staff get to go through a Vision Session at 6 months, a sit down session with their direct lead, and with People Operations to find out where they want to go personally, professionally, and financially. The goal setting allows us to get aligned with you - that way when we're making plans for the business, we have your goals in mind too.
We regularly review The Dilate Way (our company systems and processes) for innovation, and we encourage everyone to make the suggestions, and make it possible to do so. We believe in breaking down barriers for entry to change.
Once per month, we run an overall Employee Happiness survey, requesting company feedback, suggestions, a rating for the month, and a spotlight to offer peer-to-peer shout outs which are shared company-wide.