OUR BLOG
How To Optimise Your Google My Business For Local SEO

How To Optimise Your Google My Business For Local SEO
As a business owner, what could be more important than making sure customers can find you when they search for your business online? 
If they need to get in touch, how quickly can your contact details be found? 
If they want to check out what other people are saying about your business, how can they get their hands onto this?  
In short, first impressions count. Making sure all this information is publicly available online even before potential customers reach your website will place your business in a favourable position for future lead generation. 
So the answer to these questions is simple: Google My Business (GMB). 
In a nutshell, Google My Business ensures that all the critical information of your business (such as contact details, reviews, etc.) are available first-hand to customers searching for your business online.  GMB has the amazing capability of indexing all your content across Google Search, Maps and more. 
However, the benefit of GMB doesn't just stop there.  When optimised to its fullest potential, GMB also becomes a powerful tool that can increase your revenue and provide valuable insight and information about your customers.
Why is Google my business important for SEO?
As one of the most popular search engines, Google is all about ensuring a user's convenience when it comes to searching online..  An optimised Google My Business listing gives the potential customer the information they need without having to filter through and extract the information from your website.   Not only does this provide convenience, but it also does wonders for user experience. Extra brownie points right here. 
So how do we go about optimising our clients' GMB listings to achieve desirable outcomes for local seo?  Well, here are our secrets: 
Getting To Know How To Optimise Your Google My Business Listing
1.First up, verify your business with Google.
You'll need to set your intention to verify your business with Google. Once you've done this, Google will proceed to send you a four-digit PIN along with a link that will prompt you to enter that PIN. Providing you with a PIN is Google's way of making sure that your business is real, genuine and legitimate. 
Verifying your business on GMB has its benefits:  
Google searchers get to view your business when making enquiries about your products or services.

Successfully claiming your business listing allows you to gain control of all the information in your Google My Business account.

It provides analytical data so that you can pinpoint the source of your online traffic such as where and how customers have managed to find you. 

It has made it easier for customer reviews to be responded to in a timely fashion. 

It allows you to seize more sales opportunities and attract additional Google users from different service areas.
2. Secondly, you need to decide on what information shows up on your GMB profile. 
The way you fill out your profile matters, and this happens straight after you've verified your business.  
Every box you tick or choose to complete should provide vital information that will affect a customer's decision  positively and allow Google to verify that you are indeed a reliable provider of choice. 
You will need to provide consistent information about your business (such as name, physical address, business location, contact number, trading hours and relevant product or service imagery). Consistent information will help you work towards making your business appear reliable on Google My Business. 
So the more useful and relevant information you can provide to users, the easier it will be to improve the rankings of your profile. Your profile's description should contain relevant information and to help you rank better in Google search results, you can include relevant keywords.
When putting together your profile, here are some wonderful examples we've put together to help you out: 
Using the correct name and description of your business: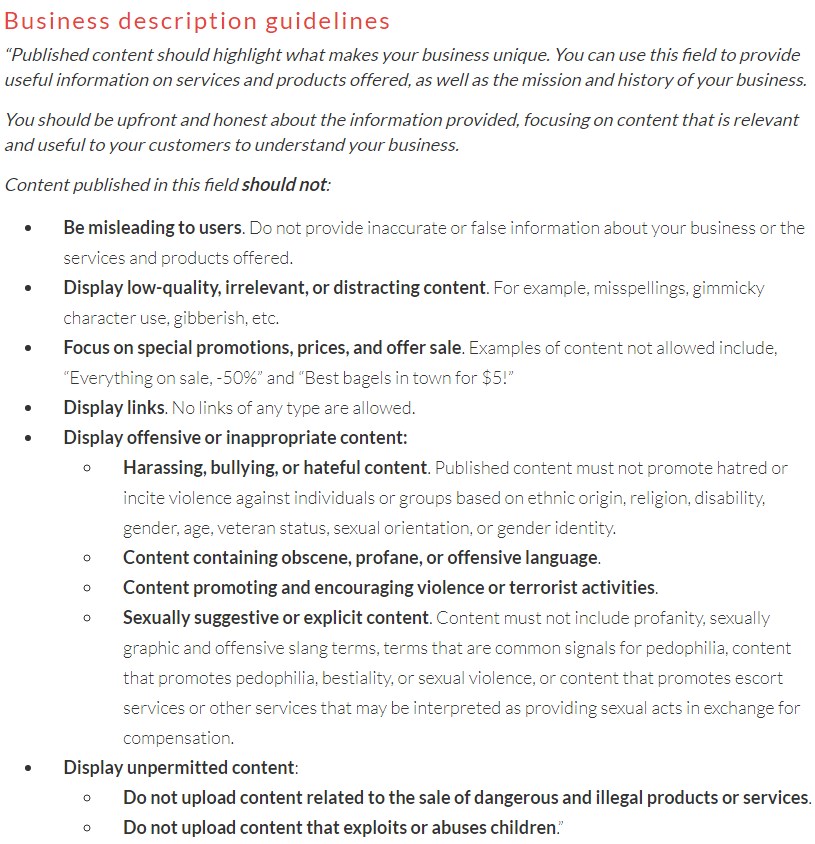 https://support.google.com/business/answer/3038177?hl=en
*Avoid spamming your keywords as this will lose the identity of your business. 
Comprehensively adding in your products and services
 Here's an example of how to optimise your listing with the important details:
You can utilise the feature called "services" which is easily accessible from the panel on the left: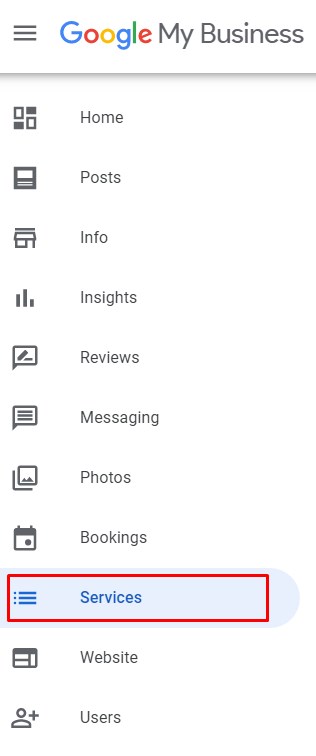 Providing more information on your products and services encourages customers to spend more time on your profile which will ultimately guide them in making a purchase decision. 
Having the right information on your listing ensures all the necessary information is right there at the convenience and finger-tips of your customers. 
It's good to add a short and concise video on your business:
To add a video this can be accessed from the panel on the left under "Photos" and selecting "Video" from the navigation menu as highlighted in red above. To publish a video select the "+" symbol.
3. Thirdly, check your profile to be sure that it includes only accurate information.
4. Making sure that your NAP is consistent Across the Web.
Ensuring the accuracy of your Google My Business listing is one thing but making sure your local directories are consistent with your GMB listing is also another.  If your business has multiple locations, you need to check that your NAP (name, address and phone number) remains consistent across every online directory and that an appropriate map is available. 
5. Choosing major categories that are relevant to your business.
Setting the proper service categories relevant to your business will not only provide users with clarity on the nature of your business but also determine the type of searches that your business will rank for.  So if you want to be bringing in the right kind of customers, make sure you select the categories that most accurately reflect the nature of your business. 
6. Uploading semi-professional pictures of your business.
Having pictures of your business will somehow further pique the interests of your searchers.  But it's also essential to optimise your images as this then makes it easier for Google to crawl through your image's alt text, titles, captions, and geotagging to determine the location of your business.  Humans are visual creatures, "even when it seems easy to overlook it, pictures for a Google My Business listing plays an important role".  
7. Bringing in the positive reviews.
Positive reviews will undoubtedly contribute towards the growth of your GMB ranking. Google considers the number of reviews received, the average star rating of each and, the genuineness of each review to determine the order of priority for displaying businesses following an online search. 
Taking the extra step of responding to each review demonstrates to your customers that you care. It also gives them the assurance that their feedback is taken on board. This simple step allows Google's algorithm to measure the level of your engagement and responsiveness on the platform. 
8. Trying to make the most out of your Google posts
Creating high-quality posts that work to drive engagement, traffic and visibility towards your profile will help your business maintain a competitive edge and do wonders for your online reputation. 
Google My Business posts have an impact on your search rankings which ultimately contribute towards your SEO efforts.  As Google prefers content that is up-to-date and relevant, making an effort to schedule your posts daily goes a long way.
9. Tracking your KPIs
Want to know how your GMB listing is performing?  Access your data to track how your KPIs are measuring!  Statistics have shown that the most critical KPIs for Google My Business listings include events, phone calls and, the number of clicks to your website.
Final Thoughts On Optimising Your Google My Business Listing
Starting your Google My Business listing can definitely improve your SEO rankings and in turn increase your chances of appearing in Google search results, Local Finder, Google Maps, and more. This ultimately improves your chances of attracting the right customers and building their loyalty to you in the long run.
Don't Take Our Word For It
Dilate Digital
has received a fantastic
5

/

5
star rating
from
102 Clients

on Google
OUR CLIENTS
We're here to help
Not sure where to start?
Our team of digital and business experts will guide you to the right direction.
Let's Talk