A Guide To Outsourcing Your Digital Marketing, Perth
Let's face it, you didn't land here by chance did you? You're probably a business owner, or the assistant of a business owner, or maybe you're researching for your future business. You already know you need marketing, because there's no point having a killer product when there's no audience to sell it too, right? Well whoever you are, you landed here for one of two reasons. One, you're wanting to gain more knowledge on outsourcing your marketing to a Digital Marketing Agency, or two, you're trying to learn how to begin Digital Marketing for your Perth Business in house. You've come to the right place, so let's get down to business.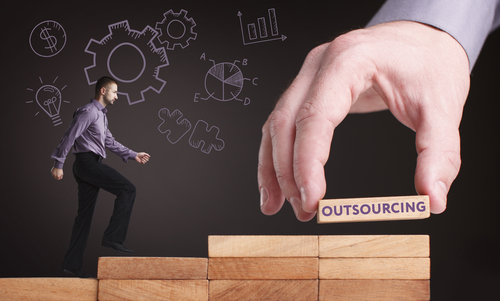 Digital Marketing is the technological aspect of marketing your product and/or service. It harnesses the marketing power of digital platforms & software from websites, search engines, social platforms, mobile and desktop applications, paid advertising, mailing lists, blogging sites, vlogging sites, directories etc. But it's not just about knowing which digital channels to harness, digital marketing is also about knowing how to harness it. There is a lot to be said for this form of methodical marketing, and there is a linear relationship between the results of your marketing efforts.
Essentially it goes like this:
Marketing in the wrong places, with the wrong strategy = Massive spend, little to no returns, depleted cash flow.
Marketing in the right places, with the right strategy = Minimal spend, bigger returns, increased cash flow.
The formula is literally that simple, but the execution is the tricky thing. You're smart though, you know that it's not that easy, and right now you're toying with the idea of doing it all yourself, getting an in-house team, or outsourcing completely. So let's weight up the cons & pros of the aforementioned ideas a little shall we?
You're doing it yourself probably because you're trying to run a lean operation, your financials don't allow for a paid professional, you're a control freak, or you're an expert and you enjoy this aspect of business. All valid reasons, so what are the benefits & the pitfalls?
Pro's: You save money in the short term by not paying skilled professionals to do it. You have a clear image of what you want to design, market & achieve and you have complete control over the entire strategy.
Con's: You lose time working on everything else in your business, you don't have someone else to bounce ideas off with. If you're not someone who knows exactly what they're doing and why (which many DIY marketers are) you end up losing money – money in time, money in poorly optimised campaigns, money in poorly designed websites, money in lost business opportunities.
If you're considering going in house then chances are your business is probably going pretty well. You're balance sheet is looking very healthy, and as BD of your own small business you're thinking it's time to expand on certain sectors of your business, like marketing. You like the idea of being able to delegate and grow in house, you also like that you can keep your eagle eye on every movement your team makes (micromanager alert), or perhaps you just enjoy the the vibes of a large inhouse team and you're actually interested in learning more about marketing. What are some of the pro's and con's of an inhouse team then?
Pro's: You have control over your staff and their direction and you can make quick changes if you don't like their work. Your team knows how your business truly works because they're there everyday. Having an in house team allows for quick response whenever you want things implemented immediately.
Con's: It's very hard to find one person who is skilled in all areas of digital marketing, and if somehow you land upon the unicorn of the marketing world, it will cost you your weight in gold for their services, and so it should. You'll probably need a team of content writers, photographers, graphic designers, marketing managers, SEO/SEM strategists, web developers, social media managers and more. If you're not a large corporate business with a multimillion dollar budget, this option is essentially too expensive to even consider. In house positions can lead to complacency due to job security confidence – it's always harder to fire a colleague and friend than an agency of strangers. You may not have work for them all the time but you'll still need to pay for them to be there.
Outsourcing a Digital Advertising Agency:
If you've read the first two options, and you're still thinking "there's got to be another way, a more affordable, realistic way to market my business that won't break the bank or leave me spread too thin" You can breathe easy my friend, there is, it's called outsourcing. Outsourcing is the answer for every business that's not A) a one-man-show startup with little to no budget, or B) a major business with a large budget. Agencies are for people who want to scale their business, who don't want to be just another business that doesn't make bank. It's for businesses that realise the benefits and importance of incorporating proper marketing into your business budget and strategy.
Pro's: Access to a melting pot of skilled, creative professionals with proven track records to grow businesses and create sales. Proven internal systems that optimise efficiency and reduce costs. Agencies are aware that your business is never a sure thing, therefore they work tirelessly to ensure they keep your business by growing it consistently. You no longer need to manage an entire sector and maintain staff engagement and expectations. Agencies can provide an objective view of your business marketing strategy, then implement new structures to eliminate the weak links (the beauty of perspective). Agencies like Dilate Digital are results driven, seriously, they actually enjoy analysing the data, implementing marketing strategies and watching those curves on the trendline increase seemingly indefinitely. Really. We do.
Con's: Agencies manage a group of clients, and although this is a positive as it allows you to have more affordable access to otherwise expensive resources and professionals. But in the effort to live by our values of transparency, the nature of our work also sometimes means waiting a few hours in the queue for your job to be completed, and that occasionally miscommunications can occur. However, agencies have years of experience working in these environments and have implemented ways to counteract these issues in order to have streamlined, and enjoyed client experiences.
If you're still not sure which route to take, consider the value of each for your particular business, and if you're unsure how to start, give one of the guys at Dilate an obligation free chat, and we can explain your options a little more, and even direct you on what you should focus on for your business' life cycle stage.